Delivery of Capacity 50kg vacuum lifter for plastic pail
Vacuum Tube Lifting Systems are ergonomic lift assist devices that can help increase your productivity while offering an economic solution to your material handling needs. 
Vacuum tube lifter is a manual vacuum lifting device that handles almost any type of load. The extremely smooth and quick operation is accomplished by using the same handle to lift, lower and release the load and by using the vacuum to hold and lift the load. Based on a unique concept.
System characteristic description
Vacuum tube lifter suction of products exceed the rated load, lifting forbidden. (Function of equipment);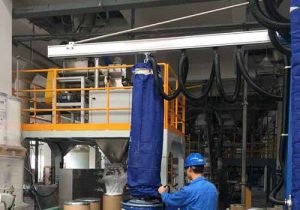 1)      In case of power failure protection:
To ensure that the suction material does not fall under the condition of power failure. After power failure, the suction cup suction the products down slowly (Function of equipment);
2)      Electric leakage protection:
To prevent the hurt caused by the electric leakage of vacuum system, and overall the insulation is good.  (Function of equipment);
3)      Electric current overload protection:
To prevent the abnormal current or the overload of damaged the vacuum lifter equipment. (Function of equipment);
4)      To be considered the air tube of installing and laying is not collision the interference and necessary protection:
Air tube durable in use good, good sealing performance:  Equipment when leaving the factory, after the force testing, the factory installation test, to ensure that each set of equipment are security, the qualified products. Upon completion of the installation., will be clearly marked on the equipment and steel structure with column:
5)       When operation of vacuum tube lifter, to operate the equipment must be in strict accordance with the requirements of our operating manual, shall not be arbitrarily changed;
6)      Safety suction
Cannot causing damage to the surface of the box body;
7)      Be able to adapt to the work environment the temperature of -15℃ —-70 ℃;