Jiangsu Zhiqu Machinery Co., Ltd.
Welcome to contact us to customize the equipment for your professional needs.
Vacuum equipment-
0.995t x 1.5m-Mini Spider Crane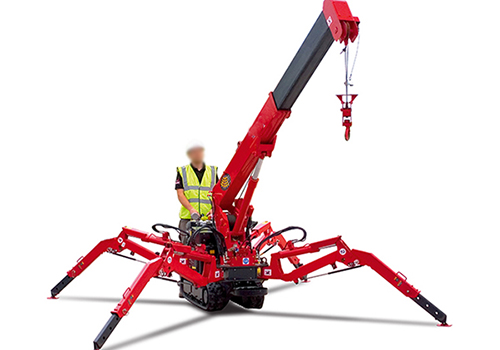 0.995t x 1.5m-Mini Spider CraneSuper slim, lightweight and strong is what sets the spider crane apart from larger, more traditional cranes. Measuring just 595mm wide and weighing only 1000kg, this micro machine is the world's smallest mini crane.
The Unic 094 delivers unparalleled lifting capacity for its size, capable of handling loads up to 995kgs. The 5.49m long boom offers a maximum hook height of 5.6m.
Lift-Smart Advanced Safety System:
Lift-Smart Advanced Safety System: Intelligent voice warning system Overwinding alarm
Intelligent throttle activation for economy and ecology Automatic hook stow
Maximum safe working load 0.995t x 1.5m Maximum lifting height 5.6m Total width 595mm
Max working radius 5.17m Max boom length 5.49m
Range of fuel options- Petrol powered or LPG dual fuel Versatile outrigger configurations Includes radio remote control Optional low marking tracks
Maximum wind speed for safe use is 36km/h,22mph or 10m/s
0.995t x1.5m-Mini Spider Crane with Sandwich board and board suction crane can be installed with color steel plate or glass curtain wall.
Recommendations of other vacuum machinery products