Jiangsu Zhiqu Machinery Co., Ltd.
Welcome to contact us to customize the equipment for your professional needs.
Vacuum equipment-
2.9t x 1.4m-Capacity Spider Crane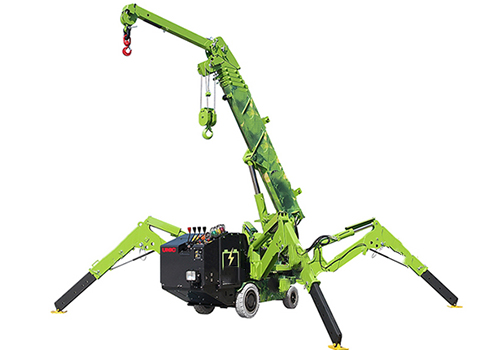 2.9t x 1.4m-Capacity Spider Crane
Introducing the latest in mini crane engineering, the battery powered model provides fume-free lifting for sensitive environments. Ideal for food processing plants, listed buildings, airports, clean environments and even cruise ships, this unique spider crane is powered by a rechargeable 48v battery with no diesel emissions impacting on the surrounding atmosphere.
Measuring just 750mm wide, the new spider crane is designed for interior access and retains all the lifting power of our standard models without compromising on operational efficiency. Alongside cutting edge technology, this innovative machine is the first spider cranes to feature low marking wheels for ultimate manoeuvrability when working on light-coloured or polished floor surfaces, making it the ideal choice for shopping centres, galleries, hospitals and more. The model has a lifting capacity of up to 2.9 tonnes to a height of up to 8 metres.
Total width: 0.75m
Max. working radius: 8.41m
Multi-position configurable outriggers
Low Marking Tyres
Operator control of outrigger extension
Intelligent voice warning system
Preliminary stability warning system with motion cut
Radio remote control as standard
Maximum wind speed for safe use is 36km/h, 22mph or 10m/s
Working area limitation 
Optional slew limitation 
2.9t x 1.4m-Capacity Spider Crane with Sandwich board and board suction crane can be installed with color steel plate or glass curtain wall.
Recommendations of other vacuum machinery products